Futurekids Introduces Classroom Currents Language Arts Curriculum for Grades 2-8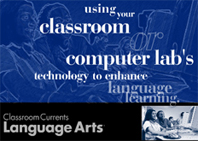 LONG BEACH, Calif. – (April 26, 2001) – Futurekids, Inc., a leading provider of education technology solutions, has introduced Classroom Currents Language Arts, a supplemental language arts curriculum for public and private schools, grades 2-8. Integrated with technology-based learning projects and correlated to individual state standards, Classroom Currents lessons help students develop critical language arts skills while using technology with ease.

The Classroom Currents Language Arts curriculum was created by educators with years of practical experience in elementary and middle school classrooms. The curriculum is designed to help students develop and acquire real world language skills that they can transfer to other projects and disciplines. Classroom Currents lessons cover three primary areas: Language Concepts (including grammar and mechanics, vocabulary, and listening and speaking skills); The Writing Process; and Reading, Comprehension, and Critical Thinking. The product is fully flexible, so teachers can follow the language arts lessons sequentially or simply in the order that best fits their students' and classroom needs. Because the curriculum is supplemental, it may be used to enhance and extend classroom instruction, rather than replace a teacher's textbooks or lesson plans.

Each Classroom Currents classroom kit includes the following: 1) A Teacher's Guide, including a Technology Reference Guide; 2) 25 Student Workbooks, each including a Technology Reference Guide; 3) two CD-ROMs with lesson templates and samples (for PC or Mac); and 4) A Standards Correlation Guide matching lessons to individual state standards. Levels are identified by color rather than by grade, allowing teachers to choose the curriculum levels that best fit individual students' needs, regardless of classroom or grade. Classroom Currents Language Arts may be used in a wide range of technology configurations, from classrooms with a single demonstration computer to full computer labs.

Classroom Currents Language Arts is not a software-based curriculum, but offers project templates and samples in Microsoft Office and AppleWorks applications. Since this is
software most schools already own, they can maximize their investment by building on it with the Classroom Currents program.

Each Classroom Currents lesson also offers variations for diverse classroom needs. These include collaborative group lessons; variations for classrooms with limited access to technology; ESL/ELL variations for beginning, intermediate, and advanced students; and assessment features, including skills-based rubrics and project-based performance assessments.

Significant introductory discounts are available for single classroom, school, and district orders. Classroom Currents Language Arts is available for review and preliminary ordering, with immediate delivery available for some levels and platforms, and is backed by Futurekids' unrivaled customer support. For more information, please visit the Classroom Currents Language Arts Web site at http://www.classroomcurrents.com/.

About Futurekids
Futurekids is the premier provider of technology teacher training solutions for schools and universities around the world. Futurekids has a 22-year record of success in technology education. Their core competency is providing technology training as it relates to teaching and learning. They have relationships and achievements with many key educational partners such as Intel, IBM and Dell. Futurekids is privately owned with headquarters in Los Angeles, CA. For more information on Futurekids, please visit http://www.futurekids.com/.