Innovative Forum Allows Education Leaders to be Students for a Day with Technology-enabled Learning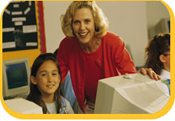 SAN ANTONIO, TX. – The next in a series of interactive education technology forums for superintendents and information technology directors will occur in San Antonio on Tuesday, May 23 and Houston on Thursday, May 25. The Classroom of Distinction Interactive Forum (CoDIF) is presented by the Center for Digital Education and Intel Corp. to showcase how powerful student engagement is in improving educational achievement.
The forum includes five completely integrated technology "classrooms" which will be showcased for language arts, math, science and professional development. Tablet PCs, smart whiteboards and interactive assessment tools will be demonstrated during the day. All participants will have an opportunity to handle and interact with the equipment just as students would in a digitally-enabled classroom.
A strategic planning session is also planned and attendees will hear first-hand how to gain leadership and financial support for their schools and districts.
Additional sponsors of this event include: DyKnow, eInstruction, Futurekids, Gateway, Pasco, Pitsco, Scantron, SMART Technologies, Star Software, Symantec, Toshiba, Trillion, and Xerox.
Intel is a trusted advisor and consultant to education in the technology field. Through their relationships with manufacturers and application service providers for both content and services; they are able to advise and help schools and districts with technology planning.
The Center for Digital Education is a premier resource on technology in the K-12 and Higher Education markets. From market intelligence programs, advisory services and research to annual events and custom publications, the Center provides dynamic and diverse opportunities for private and public sector leaders to succeed in 21st century education.
For more information contact Meg Mason at the Center for Digital Education at 800-940-6039 ext. 1411, or at mmason@centerdigitaled.com.
About Futurekids
Futurekids is the premier provider of technology teacher training solutions for schools and universities around the world. Futurekids has a 22-year record of success in technology education. Their core competency is providing technology training as it relates to teaching and learning. They have relationships and achievements with many key educational partners such as Intel, IBM and Dell.
Futurekids is privately owned with headquarters in Los Angeles, CA. For more information on Futurekids, please visit http://www.futurekids.com/.