Middle School Laptop Program Empowered by Brewer, DOE, and Corporate Partners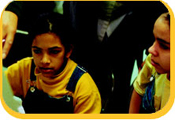 June 15, 2006 – Today, Council Member Gale A. Brewer (Council District Six, Manhattan) announced the launch of "One-to-One in Ten: A Student Laptop Initiative." This educational technology program, implemented in Region 10 of the New York City Department of Education (DOE), is designed to improve student achievement and test scores by matching students with laptops in the classroom. Four of the seven schools participating in "One-to-One in Ten" will enter the Empowerment Zone this fall, giving principals greater autonomy to pursue the innovative use of technology, as exemplified in "One-to-One in Ten", to improve teaching and learning.
Empowerment Zone schools participating in "One-to-One in Ten" will also be among the first to implement the Chancellor's Accountability Initiative, requiring that each school give math and literacy tests to students every six weeks. These student assessments will provide some measurement of the program's success, although they will be only one part of a much larger evaluation.
Integral to its objective of significantly improving student achievement, "One-to-One in Ten" is specifically designed to increase the engagement of students in their schoolwork, lower rates of absenteeism, decrease disciplinary problems, teach 21st Century technology literacy, and improve learning in all core curriculum areas.
"It is truly refreshing to see students enthusiastically embracing this contemporary form of learning. Just weeks after their schools were provided with laptops, students were already mastering complicated computer programs, and they demonstrated their new technological skills by designing elaborate Power Point presentations, spreadsheets, and graphs," remarked Council Member Gale A. Brewer, chair of the Committee of Technology in Government.
The "One-to-One in Ten" pilot program includes the following Region 10 schools, four of which receive Title 1 funding:
• MS 44 William J. O'Shea (Title I)
• MS 54 Booker T. Washington
• MS 245 The Computer School
• MS 246 Crossroads School (Title I)
• MS 247 Dual Language Middle School (Title I)
• MS 250 West Side Collaborative Middle School (Title I)
• MS 862 Mott Hall II
Corporate partners who have helped build this program now include Dell, Apple, Intel, Promethean, and Datamation, all of which have provided invaluable counsel, research, and contributions to help guide the program forward.
"New York City schoolchildren have no stronger champion than Council Member Gale Brewer, and Apple is delighted to partner with her to advance digital equity and equip students with vital 21st century skills. This digital learning initiative is an important catalyst to strengthen teaching and learning and motive students to higher levels of academic achievement," commented Scott Hughes, a member of the Strategic Initiatives team for Apple Computer.
Dell has contributed significant hardware to the program, setting up a stationary lab and providing server training for teachers at the Dual Language Middle School. The lab includes 10 Dell desktop computers and a Dell PowerEdge server that will connect the school's computers to an online student portfolio system. The system allows students to store and access their computer-generated schoolwork from any school computer. Datamation, Inc. has also donated computer tables to the library for the stationary lab.
"As a long-time partner to the New York City Department of Education, we share Council Member Brewer's commitment to help students develop the teamwork, collaboration and communication skills they'll need to be successful," says Karen Bruett, vice president of Dell's K-12 education business. "This technology helps transform classrooms into high-tech, engaging environments where students can be excited about learning, now and in the future."
Additionally, Promethean Inc. has donated an interactive white board system, including hand-held response devices for each student, to the Dual Language Middle School.
Through a ground-up decision making process, significant emphasis has been placed on the importance of accompanying hardware platforms with enhanced technical support and professional development. Through a $50,000 grant from Intel Corp, each school will receive in-class professional development, and support during the school day, beginning in the fall of 2006. Futurekids, a company devoted to integrating technology into K-12 schools, will provide the training for teachers.
"Intel collaborates with educators, government and community leaders to help today's students develop the higher-order thinking skills they will need to thrive in the knowledge-based economy," said Dr. Eileen Lento, educational strategist, Intel Corp. "New York is a great example of a community working toward this vision and a 1:1 learning model in K-12 education. Professional development of the nation's teachers is a critical component to the success of any 1:1 implementation plan."
"As technology permeates into nearly every aspect of contemporary life, the public, private, and nonprofit sectors have become increasingly engaged in preparing today's youth to live and work in a global economy ever more dependant upon computers, wireless networking, and the Internet," said Council Member Brewer.
About Futurekids
Futurekids is the premier provider of technology teacher training solutions for schools and universities around the world. Futurekids has a 22-year record of success in technology education. Their core competency is providing technology training as it relates to teaching and learning. They have relationships and achievements with many key educational partners such as Intel, IBM and Dell.
Futurekids is privately owned with headquarters in Los Angeles, CA. For more information on Futurekids, please visit http://www.futurekids.com/.