Futurekids Partners with Intel, Adobe, Lenovo and Technology & Learning Magazine to Create 21st Century Connections Technology Resource for Schools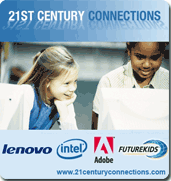 Becoming a 21st century classroom just got a little easier with a major new information portal for administrators, teachers and students. The initiative is a partnership between technology companies Lenovo , Adobe, Intel, and Futurekids and facilitated by Technology & Learning Magazine.

The web site is dedicated to delivering technology solutions that allow students to explore ways to learn new skills and use tools that thoroughly engage them. School districts are looking for ways to help students acquire these new skills while they also address NCLB mandates.

"All of us are committed to producing the very best students in America and beyond," explained Dzana Homan, CEO of Futurekids. "Today, that means we have to educate our students to not only be book smart, but also have the technology skills needed to succeed in today's global workforce. Technology can help provide faster information for processing information, analyzing results, and communicating effectively so they can collaborate, solve problems and make decisions. It's a whole new 21st century skill set."

As part of the partnership, teachers, administrators and students can log into http://www.21centuryconnections.com/ and learn about best practice techniques for creating a learning environment that takes advantage of the very latest software, hardware, assessment and professional development tools.

In addition, the group is planning a series of educational symposiums for school districts across the country. The first, scheduled for Sept. 28, 2007 in Coral Gables, Florida, will discuss in-depth technology funding challenges and solutions encountered by school districts. A West Coast conference covering these topics is slated for Oct. 11, 2007 in San Francisco.

"Futurekids is proud to be involved with such an important initiative as 21st Century Connections," continues Homan. "All of our partners believe that technology has to play an integral role in learning effectiveness. Research bears that out time and again.

But at Futurekids, we believe it's not just hardware or software. An integrated technology program should also include benchmarked assessment and professional development programs to augment the plan. What good is technology if a teacher or a student doesn't know how to use it?"

The group also publishes an ongoing newsletter filled with tips and how-to articles on technology integration in education as well as hardware and software tips and has recently completed an online eBook entitled "Technology Planning: Building Supper and Communication." Individuals can sign up for the complimentary newsletter and eBook at the 21st Century Connections web site.

"Working with some of the brightest minds and trendsetters in technology has really been inspiring," says Homan, who was recently selected as a member of the Women's Leadership Board of Harvard University's Kennedy School of Government. "All of us are committed to making a significant impact on education, and technology gives us the tools to do that on a broader scale with greater speed."

About the Companies

Futurekids
Futurekids is the premier provider of technology assessment, professional development and technology curriculum for leading schools, universities and learning centers in the United States and in 65 countries around the world. For more information on Futurekids, please visit http://www.futurekids.com/.

Lenovo
Lenovo is an innovative, international technology company formed as a result of the acquisition by the Lenovo Group of the IBM Personal Computing Division. As a global leader in the PC market, Lenovo develops, manufactures and markets cutting-edge, high-quality PC products and value-added professional services that provide customers around the world with smarter ways to be productive and competitive.

Intel
Intel has for nearly 40 years pushed the boundaries of technological innovation in order to make people's lives more exciting, fulfilling, and easier to manage. Intel provides the brainpower and expertise in creating of the most leading-edge processor and wireless technology standards to help people connect and access information anytime, anywhere.

Adobe
Adobe revolutionizes how the world engages with ideas and information. For 25 years, the company's award-winning software and technologies have redefined business, entertainment, and personal communications by setting new standards for producing and delivering content that engages people virtually anywhere at anytime. Adobe is one of the world's largest and most diversified software companies.

Technology & Learning Magazine
Technology & Learning (http://www.techlearning.com/), published by NewBay Media LLC, is a leading publication in the K-12 educational technology market. In 2006, Technology & Learning was recognized for its commitment to excellence, receiving several of the industry's top media accolades.
| | | |
| --- | --- | --- |
| | | |