SINGAPORE LEARNS BEST PRACTICES IN SCHOOL TECHNOLOGY FROM U.S. SCHOOLS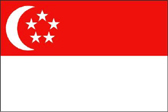 LOS ANGELES, CA (December 1, 1999) – Representatives from Singapore will visit United States' schools next week, December 6-14, to study new and effective ways of delivering technology-rich classroom instruction. To accomplish this, Singapore representatives are seeking the help of Futurekids, Inc., a world leader for sixteen years in helping schools use technology to transform education. Futurekids, Inc. will host the 10-day visit by coordinating meetings and school site visits with K-12 and higher education administrators, school principals, technology coordinators, teachers and students throughout the U.S. "We are very pleased that Singapore officials have chosen to study Futurekids' schools," said Karen Fasimpaur, president and chief operating officer of Futurekids, Inc. "These schools are exemplary of effective technology use in classrooms today and offer a model of successful technology integration for the world to see."

Singapore's U.S. tour begins December 6 in Los Angeles, California with a visit to E. Hale Elementary School in nearby Murrieta. On December 8 in Boise, Idaho, Singapore representatives will meet Boise State University College of Education professor, Dr. Carolyn Thorsen, and Idaho State Department of Education representative, Rich Mincer. There, the group will also visit a local high school supported by the technology grant funding of the J.A. & Kathryn Albertson Foundation. On December 9, the visitors travel to Carbondale, Illinois, where they will meet technology coordinator Marla Harp and superintendents of the Franklin- Williamson Regional Office of Education #21. Carterville and Ewing-Northern Grade Schools are among the sites the group will tour. The visitors will make their last stop December 13 in Grand Rapids, Michigan. There, Dr. Mary Leiker, superintendent of the Kentwood School District, will lead Singapore's tour of schools partnering with Futurekids.

To date, there are 400 schools and colleges in Singapore. Just over 30% are networked and Internet-ready. Recently, the Singapore Ministry of Education (MOE) dedicated $2 billion in educational technology with goals by the year 2002 (1) to achieve a 2:1 student-to-computer ratio and (2) to spend 30% of curricular instruction using technology. From this national tour, Singapore officials intend to move closer to these goals by gathering information about classroom practices that employ (1) Internet-based instruction, (2) interdisciplinary activities, (3) thorough assessments of effectiveness, (4) small group methodology and other classroom configurations, and (5) Midi-assisted composition. This visit will complement the information gathered during Singapore's previous visit to the U.S. in December 1997.

About Futurekids
Futurekids is the premier provider of technology teacher training solutions for schools and universities around the world. Futurekids has a 22-year record of success in technology education. Their core competency is providing technology training as it relates to teaching and learning. They have relationships and achievements with many key educational partners such as Intel, IBM and Dell. Futurekids is privately owned with headquarters in Los Angeles, CA. For more information on Futurekids, please visit http://www.futurekids.com/.