A evidence-based, reading-independent tool, Ripple Effects for Teens includes 390 reading independent tutorials? that provide individualized guidance that zeroes in on the particular risk and protective factors that affect student behavior, motivation, learning and connectedness. It provides cognitive-behavioral training to turn students around.
While recognizing risks, the program focuses on building strengths, especially in core social-emotional abilities that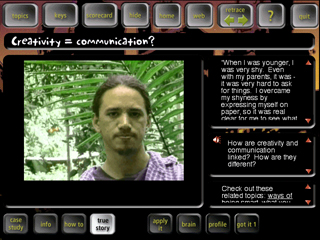 are correlated with academic achievement and resilience. From truancy to vandalism, sexual harassment to violence and bullying, you can simply assign students time on that topic and check the easy-to-use management system to make sure they've completed the necessary tutorials. Interactive games and exercises help them understand the reasons behind their actions and learn proven effective strategies for changing their behavior.
Tested with NIH funding, Ripple Effects for Teens has been shown to reduce risk, enhance protective factors, improve behavior and raise grades for Black, Latino and Caucasian students from traditional, alternative, charter and continuation schools in rural and urban settings.
There are many right ways to use it - for systematic training, for targeted intervention, or for individualized guidance. It can be applied reactively, to deal with specific issues in a few minutes, and proactively, over time, to boost academic achievement, change behavior, reduce substance use, and promote healthy choices. It's designed to be used how you need it, when you need it – throughout the school and in the community.It's driven by Ripple Effects' Whole Spectrum Learning System, a groundbreaking approach that is responsive to the varying needs and abilities of a wide range of users and learning styles. It offers no fewer than eight modes of learning for every topic in the program. A full topic takes about 15 minutes to complete. Educators can also track student progress, and block topics they feel aren't appropriate.
Try it: order a risk-free 30 day preview of the full program.